UC News:
Welcome back Dr. Susan Gardner! Susan began her new role this week as Assistant Dean for Professional and Student Affairs in the School of Pharmacy.
Dr. Gardner's over 15 years of diverse experiences in student services and enrollment management in both Community and Technical Colleges and University settings is a wonderful addition to the School of Pharmacy. Dr. Gardner has served in various capacities as Assistant Dean of Student Life (here at UC in the early 2000's), Dean of Student Services, and most recently as Vice-President for Student Services at Kanawha Valley Community and Technical College. Dr. Gardner will have primary responsibility for the School of Pharmacy's admission, recruitment, student affairs, disciplinary and co-curricular activities for student pharmacists.
On October 29 Dr. Xiaoping Sun presented at an invited research seminar at Marshall University. The title is "The Chemistry of Electrophiles: Uranyl (UO22+), etc.". On the same day Dr. Sun gave another invited talk at a meeting of the Central Ohio Valley Section of American Chemical Society in Huntington, W.Va. The title is "Sustainable Model for Undergraduate Research in a Small Teaching Institution".
Christian Pharmacists Fellowship International (CPFI) Awards Committee member Keith Allhands presented the National Student Chapter of the Year Award to the University of Charleston School of Pharmacy student chapter last Tuesday. The UC School of Pharmacy student chapter of CPFI was chosen out of 84 student chapters in the United States. Criteria for winning the award includes: number of chapter meetings, outreach programs, fundraisers and health campaigns, attendance at national meetings and bible studies. The award was announced at the national meeting in June, 2013 in Flat Rock, N.C.
Congrats to former UC men's tennis player, and past Student of the Year, Carlo Sciara on recently passing the bar exam in New York!
Upcoming Events: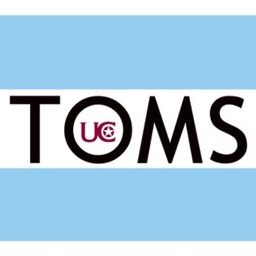 The University of Charleston TOMS Campus Club will host "Socksgiving" to collect new socks and towels for local homeless shelters on Thursday, November 7, from 4-7 p.m. on the steps of Geary Student Union.
Students and community members are invited to bring new towels and packages of socks to the event, tie-dye some to keep, and donate the rest to benefit local homeless men and women at the YWCA Sojourner's Shelter and Union Mission Crossroads Homeless Shelter. Homeless shelters are always in need of these items, especially during the coming winter months.

The UC TOMS Club will also ask for participants to dip the bottom of their feet in blue paint and walk across a white sheet to help create a new flag for the chapter. The combination of steps in straight lines will help recreate the internationally recognized TOMS logo.
Maroon & Gold Open House – UC-Charleston
Saturday, November 9th

Check-in will begin at 9:30 a.m.
Continental breakfast provided
Concluding at 2 p.m.
The UC Speaker Series Presents:
God and Violence in America
Tuesday, Nov. 19 • 6:30 p.m.
Join UC President Ed Welch for a discussion with Stanley Hauerwas, the Gilbert T. Rowe Professor of Theological Ethics at Duke Divinity School, and Bible Center Pastor Rev. Eric Mounts for a discussion on God and violence in our American society.
Cheering Section:
The women's soccer team shut out Concord 2-0 in their last regular season game on Tuesday. http://ucgoldeneagles.com/news/2013/10/29/WSOC_1029134822.aspx?path=wsoc
The volleyball team beat Wesleyan and Glenville last week. Kat Furlong was named MEC Player of the Week. http://ucgoldeneagles.com/news/2013/11/1/WVB_1101130500.aspx?path=wvball
The men's soccer team crushed Concord 4-0 in their last regular game of the season on Wednesday. http://ucgoldeneagles.com/news/2013/10/30/MSOC_1030130815.aspx?path=msoc
The football team dominated West Liberty 26-9 last weekend. http://ucgoldeneagles.com/news/2013/11/1/FB_1101133520.aspx?path=football
This Week in Sports:
Volleyball takes on West Virginia State tonight at 7pm at home before heading to UVa at Wise and Fairmont State this weekend.
The MEC Tournament for both men's and women's soccer begins this Thursday in Fairmont.
Football hosts its last home game o the year when it faces off against Fairmont State on Saturday at UC Stadium.
Women's cross country is away at Lock Haven University this weekend.
Women's crew is at Head of the South.
Women's basketball travels to WV State for the Mountain East/CIAA Challenge this weekend. They play at 7:30 p.m. on Friday and 5:30 p.m. on Saturday.
Men's basketball heads to the Shepherd Tip Off Classic this weekend, where they will take on California University of Pennsylvania and Slippery Rock.
This Talon was prepared by UC senior Megan Bauman. Megan is a communications major interning in the UC Communications Office, and a member of the women's soccer team.
Please print and post if there are people in your department who do not have access to email. Have news you'd like to share? Email scottcastleman@ucwv.edu